Contact
Please, use this form to request information


Patrice
, passionate owner since 1990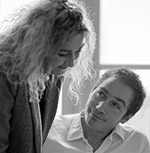 Marie-Ange
et
Jonathan
help you organize your wedding
Add the Château de Vallery to your contacts...


... and discover the "Amazing Team"
F

or an on-site appointment
Set aside at least two hours to tour Chateau de Vallery that promises you exclusive hire in an atmosphere of total freedom. There are no constraints here -in terms of time or space. Your special night can continue until dawn. There are no deadlines, just a thousand torches to fill the night with fire from dusk until dawn. Please, contact the team now to dream
your wedding at this French venue
. From the Palm Grove to the Loft bridal suite, from
the swimming pool
to the Oriental Pavilion, everything is a journey. From the Music Room
"Menus Plaisirs"
to the Pierre Lescot's Grande Galerie, from the bedrooms to the ceremony venues, everything is a wedding. A subtle union of French history and exoticism for your event in this domain that you can visit now at your convenience...
F

or a videoconferencing appointment
If you are unable
to visit this French chateau
, the
"fabulous team"
can offer you an amazing
virtual tour
. This historic and romantic chateau, which knows how to
thank its former brides and grooms
, can also be yours for your wedding. Via the application of your choice, discover the romanticism and uniqueness of the Citadelle des Princes from your smartphone, tablet or computer. In both cases, phone on
+33(0)3.86.97.77.00
or use the form above. Please use the scrolldown menu to let us know
how you heard about Chateau de Vallery?
as a wedding venue. If you decide to rent the estate, our team will be delighted to help you organise your wedding in France, with as much expertise and pleasure as
those testified to here by former brides and grooms
.
Getting to wedding in france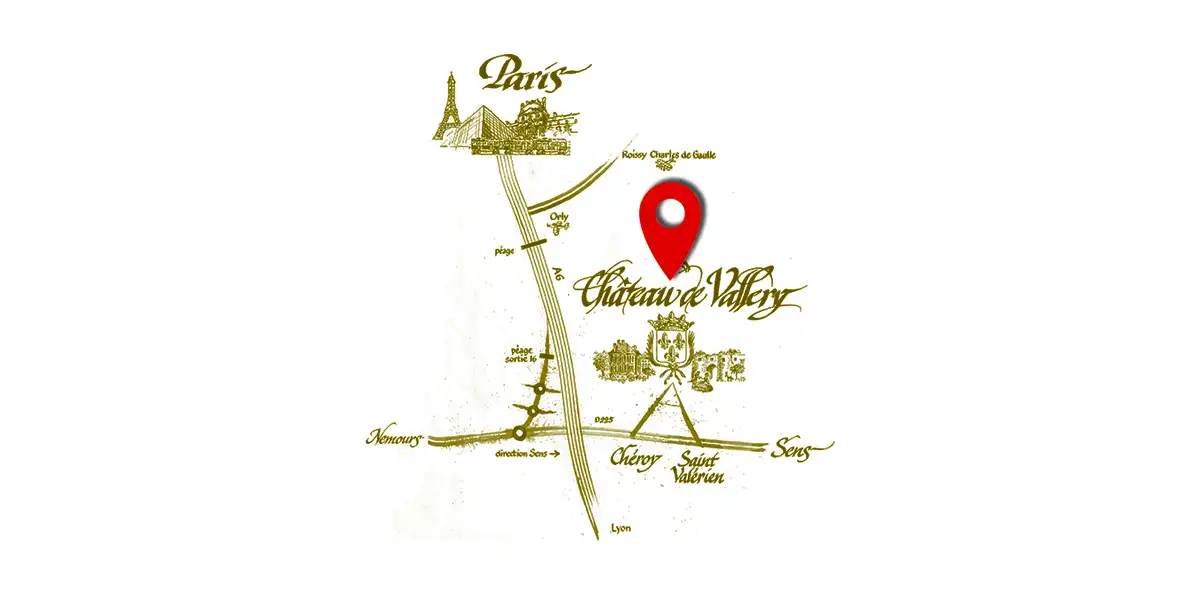 Just
1 hour south of Paris, Château de Vallery
has more than just reception room to offer: the entire private estate is at your disposal for your luxury stay weekend! This can lead you to dream about your party in the most attractive
chateau and our directory of photos, videos and plans
might just convince you. Open to visitors all year round without interruption, Vallery welcomes you all the time you need to imagine the rental of the estate: the chateau's large halls and bedrooms, its surroundings and recommendations for the organization of your reception; proposals for the D-day pitch, the timing of the day before and/or the day after as well as the list of
confirmed service providers
of your choice.
Drive in from Paris: A6 towards Lyon, Exit 16 to Nemours. Exit 3rd roundabout to Sens (D225), then follow signs to Chéroy. There, other signs will guide you to Chateau de Vallery and sometimes
"Château des Condé"
, its former name.
Click here
to let your best GPS guide you to this citadel of Princes, Muses and night. Getting to wedding in France with
valiant taxi drivers
; they can bring you to the chateau from the nearest railway station, from Paris, from Orly or from Roissy international airports. Do not hesitate to book their service a few days in advance. It only remains for us to wish you a safe journey to the lands of the Princes where it is said that
"No finer setting can there be in which your love to pledge"
.


download the access map (PDF) for your invitation