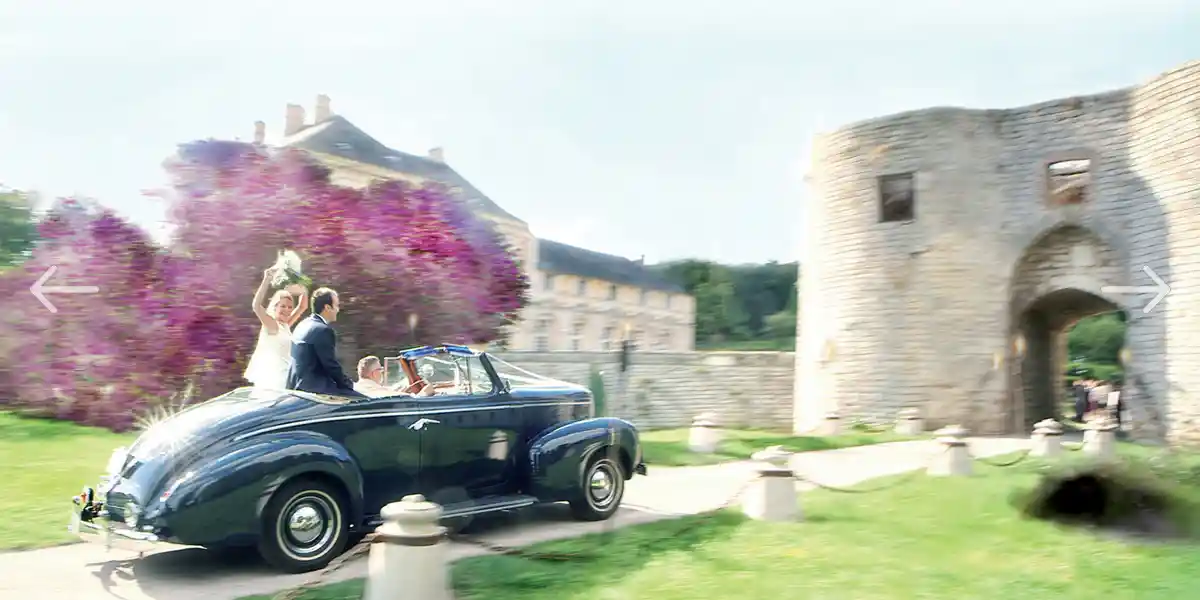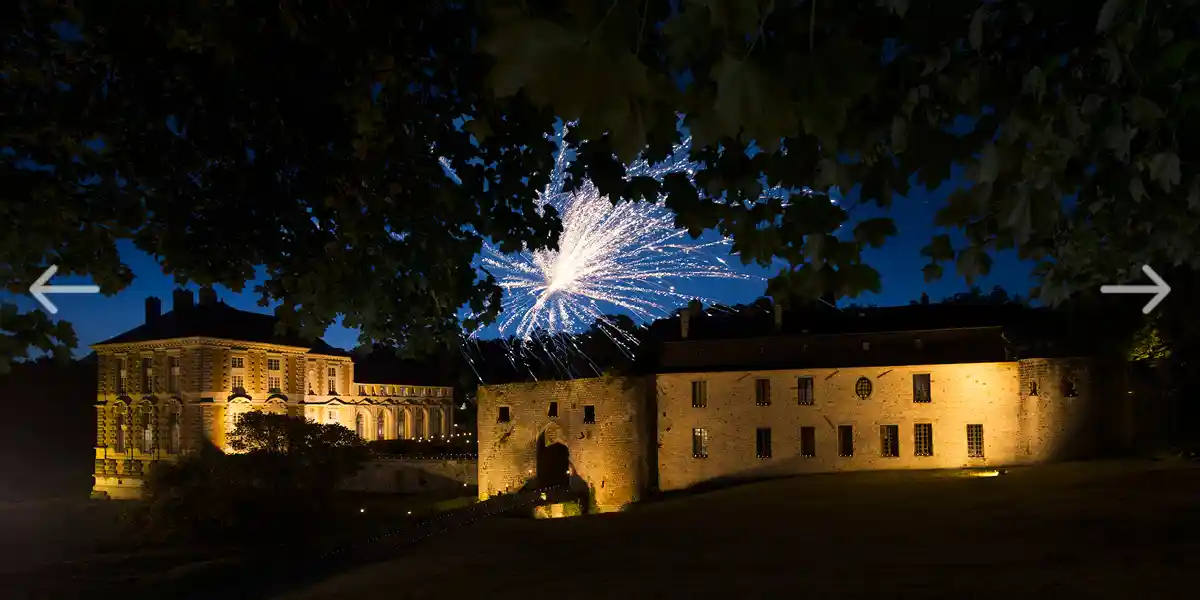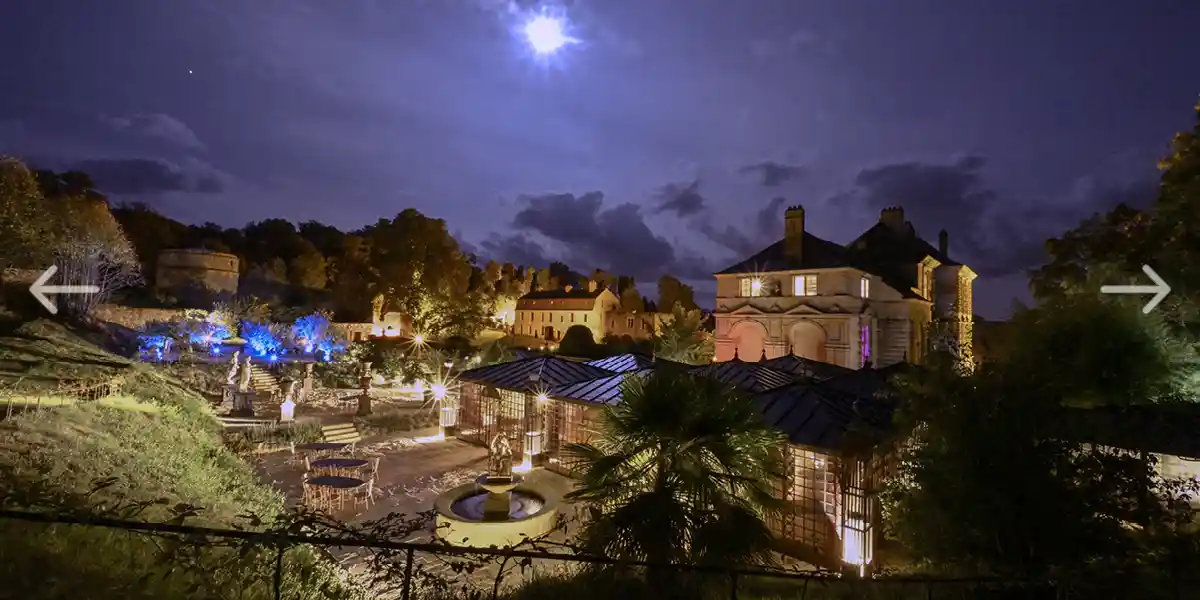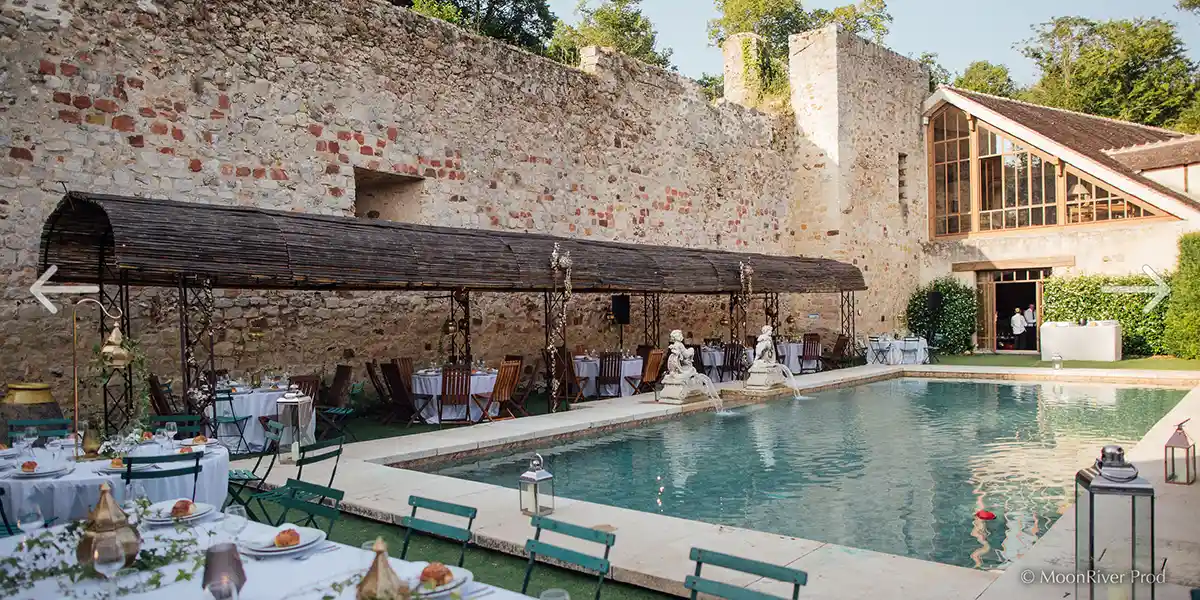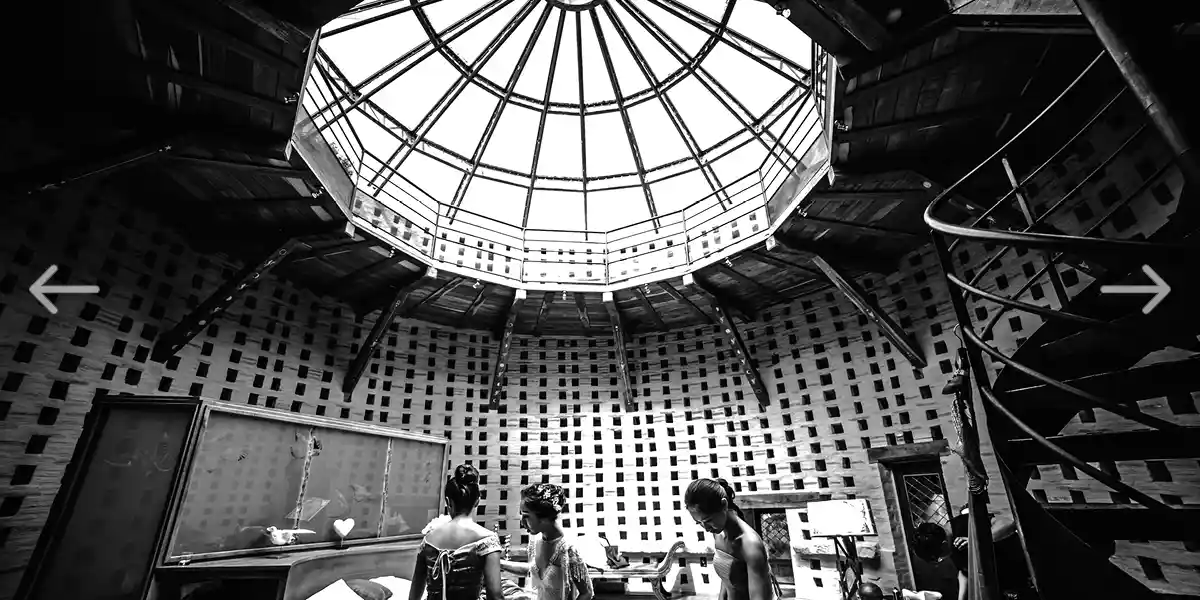 Your chateau near Paris for wedding
B

etween Paris and Burgundy

Host your wedding reception at France's most romantic Historical Monument Château de Vallery, a true Renaissance masterpiece. Your chateau near Paris for wedding is yours for 2 to 3 days with no curfew. For your special day, make the most of property's

4 grandiose historical halls, 28 rooms, heated swimming pool

, tennis court, torch-lit evenings, music until dawn and much, much more. Feel free to

choose a French chateau as your wedding venue

: Vallery.
C

herished freedom

True freedom lives halfway between Paris and Burgundy! You are free... Free to welcome your guests to an exclusive location and to settle into the castle and its rooms one day in advance... Free to celebrate your union at the local church or in the rose garden... Free to dance until dawn, to go for a night-time swim amid the palm trees and to invite your guests to stay on for brunch the day after the reception. Even caterers and other services can be yours to choose. Make your dreams come true and enjoy a positively liberating chateau rental experience.
C

hateau near Paris for wedding

Bride grooms who have chosen Vallery as their wedding venue over the last 30 years are thanked over a

dedicated page of this website

. The wealth of their cultures, their traditions and their love have strengthened our resolve to restore life to this Renaissance jewel. We have been able to bring the estate's architecture and its festive traditions back to life. The wedding venue has very fond memories of all his bride grooms. And so many of them have expressed their joy in our

visitors' book

and on

social media

- thank you for that.
H

istory and your own story

Jacques d'Albon entrusted the construction of the Renaissance part of the building to Pierre Lescot. At the time, this famous architect was still working on the Louvre, yet still managed to make Vallery

"the most magnificent chateau in the world"

. Famous French writer Brantôme was dazzled by the location's sumptuous nature and wrote:

"...Those who then beheld Vallery fully furnished could neither appraise nor prize its riches..."

The property was portrayed in La Princesse de Clèves as the castle of utter seduction and love. A fact to which History certainly bears witness: Henri IV himself once ventured into the estate in disguise in order to seduce Charlotte de Montmorency, who lived at Château de Vallery and with whom the king had fallen madly in love. Vallery was also home to the Princes and Princesses of Condé, all of whom now rest at the local church in Vallery. Today, for your chateau near Paris for wedding could be all yours.

"In no better place could thine love be given"

Ronsard 1555
C

elebration in literature

The book

"Princes, Muses and Weddings"

by P. Vansteenberghe looks back at the celebrations that have taken place in this citadel since its rebirth. It explores

the arts of fireworks

, dinner parties, dance and seduction from medieval origins to more contemporary chateau rental.
T

he virtual tour

Don't hesitate to discover

the photos and videos at the chateau

and to feed your curiosity, the

"fabulous team"

is at your disposal to accompany you on a virtual visit. So, from your own device, from your home, with a simple phone call, discover the domain in its entirety. Not as pleasant as on site, but an easy way to take a

virtual tour of a French wedding venue

today!

The swimming pool extends forth from the oriental pavilion: it is protected by the medieval ramparts to the north and opens up to overlook the rose garden to the south. The pool is heated all year round. More than a chateau rental; your home in all seasons.

It is flanked by 2 arbors, perfect for hosting brunch as well as your wedding dinner the night before. In the summer, the scents of the rose garden drift beneath the arbors, where guests can also marvel at the sight of the fully lit-up chateau and gardens.


Today as in the past, the main argument for considering your wedding at Château de Vallery remains the hundreds of testimonies on Google, in our guestbook and other peripheral sites. A few words of brides and grooms who have made their nuptial residence of this chateau near Paris for wedding:
Laura & Adam

"When we first visited Chateau de Vallery in 2018, we fell in love and knew that this was the place for our special day. Words could not describe how we felt about the Chateau and so, a year and a half later, we travelled back with our friends and family from Australia to experience our fairy tale wedding at the Chateau.
Patrice, Jonathan and Ariane, thank you so much! From planning everything for the wedding with you from the other side of the world, to the time during our stay, you were always so prompt and added to the magical experience, always going out of your way to make every moment perfect.
Whenever we think back to this special time (daily) or talk with our guests, we still cannot believe the time that we spent at the Chateau. While you are there, you forget about the rest of the world as the grounds, the building and the people make you feel like you are living back when the Chateau was first built!
We will always cherish and never forget our memory of our time at Chateau de Vallery"
Christian Flouch

"Absolutely wonderful place to hold a wedding. Words cannot describe how magnificent this place is to hold the party of a lifetime. We got married in August and spent four days at the Chateau. Jonathan and the team looked after us extremely well from the first time we visited and right through to when we left for our honeymoon."
Lucy Whittaker

"From start to finish and every step of the way; Chateau de Vallery was an enchanted fairytale dream come true.
We visited the Chateau as a potential wedding venue over 2 years ago and fell in love at first sight... every moment spent within its walls is truly magnificent and believe me when I say the photos and videos do not do this incredible and unique venue justice. Our wedding was an event I never even dreamed possible because of this stunningly romantic venue and the absolutely fantastic team that run it. Our guests were truly enchanted by the Chateau and it's eclectic mix of rooms and styles and it was so special to be able to host them while also ensuring the day ran seamlessly with the help of the team on the ground who were so kind and diligent and helpful in the run up to our big day.
I cannot express in words how gorgeous this place is- anyone even considering hosting their wedding here should book immediately, it is one of a kind and I could literally cry tears of joy writing this review as it is just so beautiful."
Check out other
Google reviews
or
testimonials from our guestbook
Ariane and Patrice are the passionate owners of the estate. We owe the château's influence to Ariane. As an experienced architect...
...(Kenzo, Dior, Virgin, etc.), Patrice is in charge of renovations. The duo is here to welcome you and
make Château de Vallery your own!