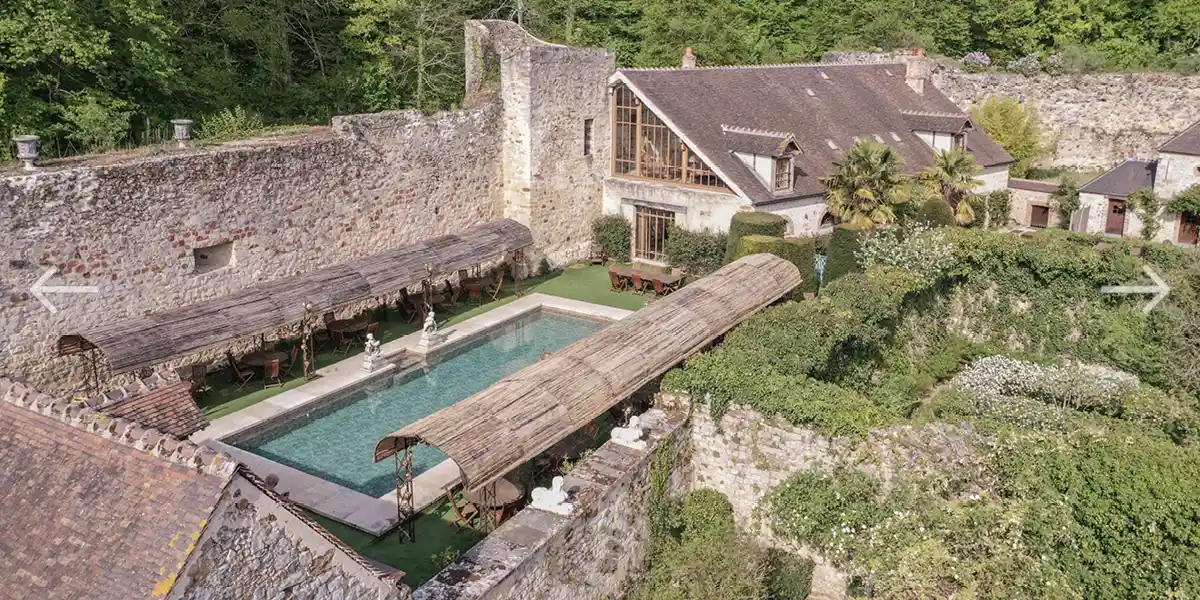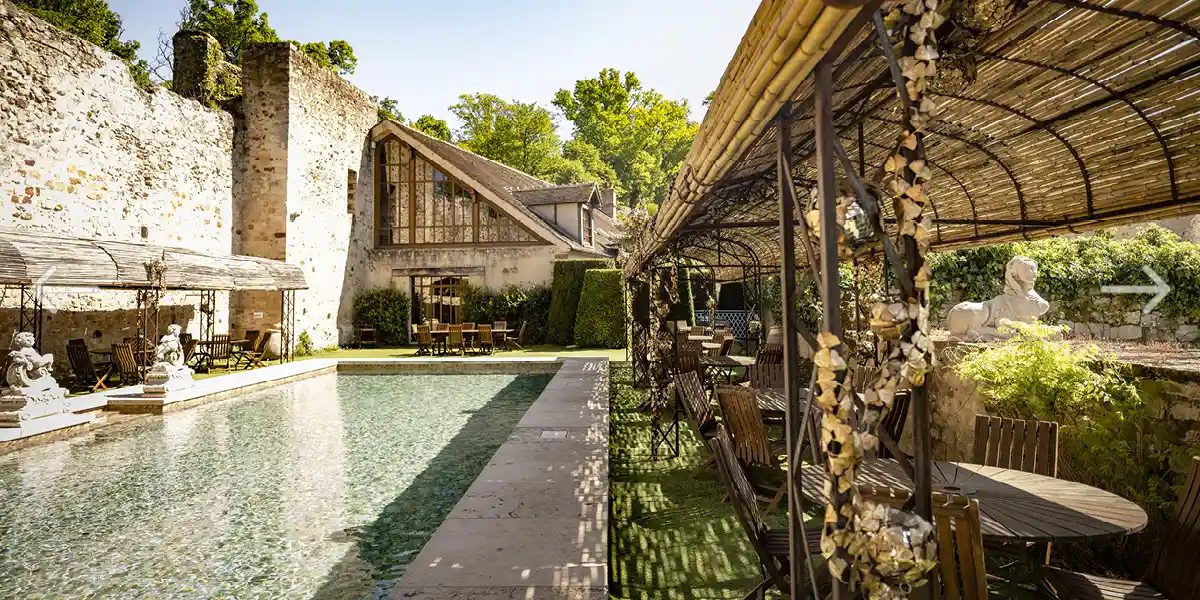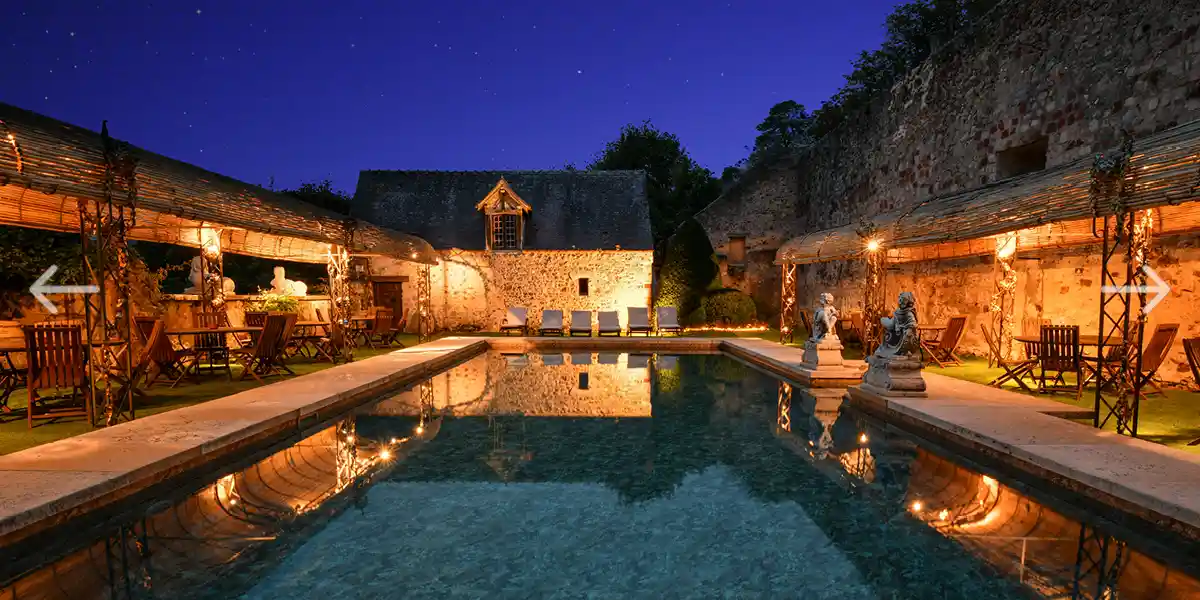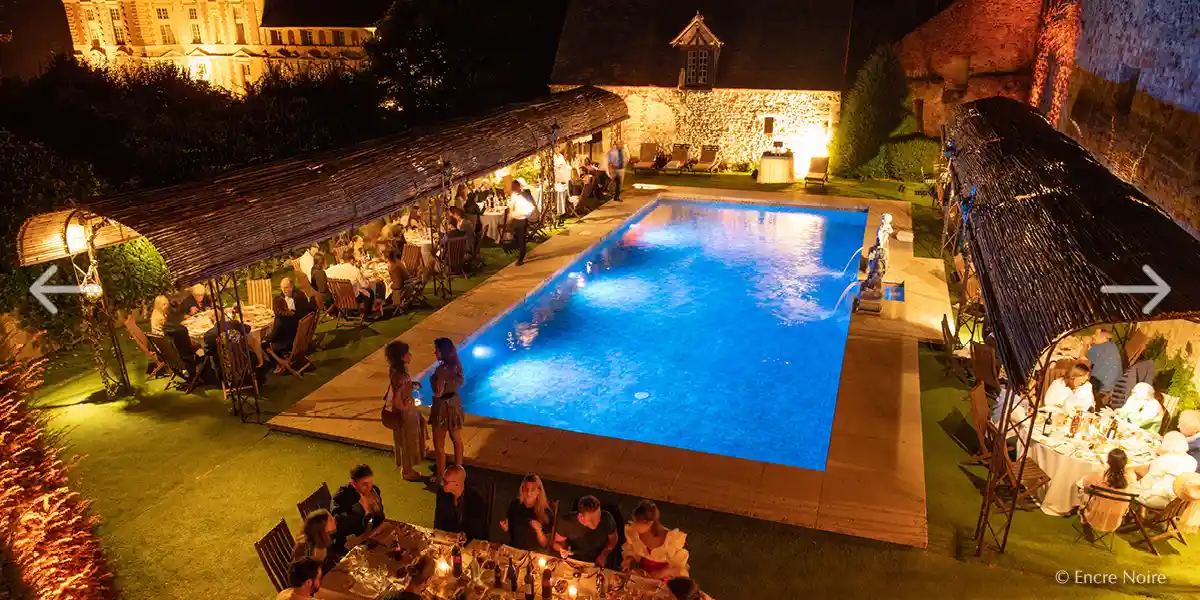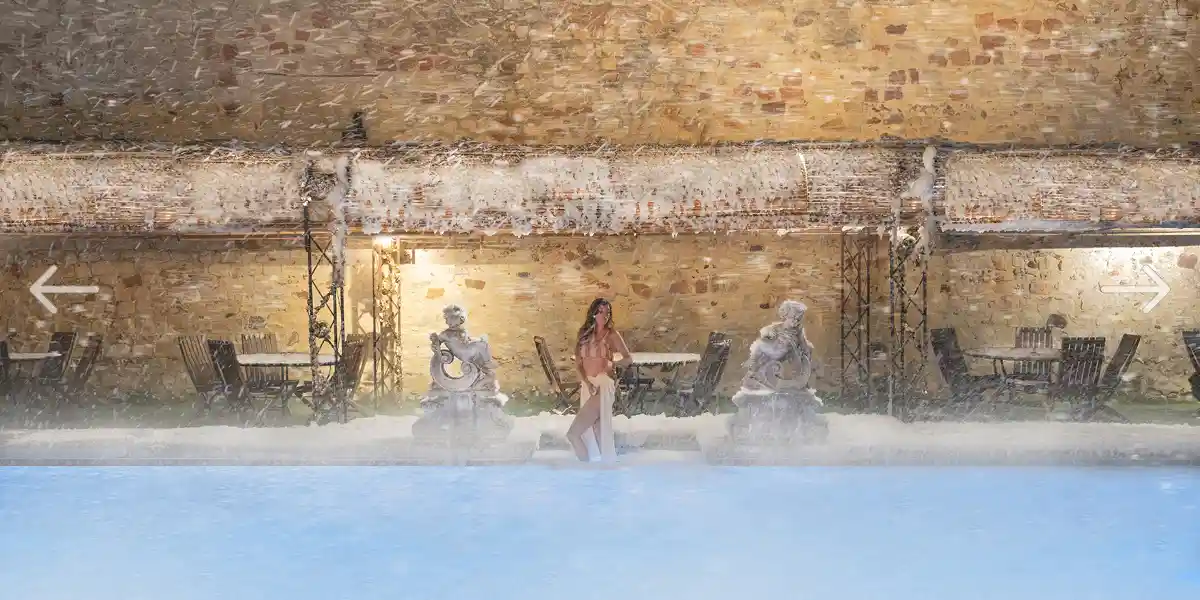 Swimming pool for your wedding in France
A

mazing background for events and photos

From the moucharabieh of

the Oriental Pavilion

, you can see the chateau's swimming pool, which is open for all

wedding receptions and in all seasons

. Guests are particularly fond of bathing in its warm, colorful waters in the middle of the night. This venue within a venue also inspires fashion designers and creators from France and all over the world for their photo shoots.
W

edding and swimming pool

The swimming pool is like an oasis. Heated all year round, it is also frequently used out of season. Mixing the solemn ceremony with the leisure of the pool, seduces guests to the place. Dinner around the "Grand Bassin" the night before the big day or brunch the day after is a must at Vallery.
D

ominating the fortress

Located between the forest and the Rose Garden, the pool is flanked by two arbors on either side of its length. Therefore, bathers enjoy watching the Renaissance chateau as well as the medieval postern under the shade of the bamboos. In addition, the Oriental Pavilion's Riad, in the prolongation of the "Grand Bassin", always keeps a little freshness. It is also the ideal place

for wedding photos

.
W

ater is freedom

This estate is a land of freedom in time and space. In this little paradise of France, there is another tradition: the bride and groom and a few "diehards" enjoy the swimming pool again in the scent of dawn! In fact, the midnight bath becomes an early morning bath. There is no time limit to the party here.
T

he most beautiful views on a dream location

The chateau's swimming pool overlooks the estate, which is located between Paris and Burgundy, between Île-de-France and the wine route. From the pool, the view of the countryside and the citadel is breathtaking. You can see architecture from

the medieval and Renaissance periods

.

The 4 large reception halls,

the 28 bedrooms

and the many unusual corners of this romantic wedding venue can be guessed. You can gaze the park, where the wedding cake is often served after a firework display. It is also here, under the arbors, that you and your guests can relax in optimal comfort.
T

he greatest backgrounds for wedding photos

It is worth remembering that the main reception rooms can accommodate up to 400 guests comfortably. Wedding dinners can also be held outside in the grounds. You can take a leisurely stroll around the buildings for your wedding photos or just a breath during your stay. Stroll through the Rose Garden in full bloom or the Palm Grove with its gazebo.

However, the swimming pool and its arbors is the place where the eves or the day after the event take place. The bride and groom and their guests spend most of their time there. The adjoining Oriental Pavilion with its buffets or barbecue, toilets and outdoor shower are important advantages.
Tags & key info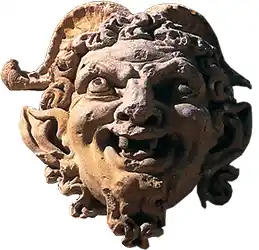 Other wedding venue amenities
On the spot
2 to 3 days rental
Exclusivity of the chateau
Tennis court on site
Linen and towels included in the 28 rooms
Wine tasting in the medieval cellars
Golf cart for moving around the chateau
Shaded parking with electric vehicle recharging
Disabled access (3 reception large halls and 2 bedrooms)
In the immediate vicinity
Visits to Burgundy vineyards within 1 hour's drive (Irancy and Chablis)
2 golf courses within 5km
Canoeing on the Yonne River nearby
Other benefits
No time limit in the night
Choice of caterer and other service providers
Wi-Fi/Internet access
Television and DVD player
Storage of your wines and champagne 3 weeks before the even
Bicycles available on request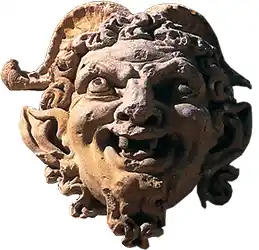 Included in the package price
One hour from Paris, France
One to two nights venue rental
The "fabulous team" to help you plan your event
Steward, baby sitters and caretaker for your big day
Provision of equipment and all the furniture on the estate
Optional provision of sound and light equipment
The venue offers 1 night for a weekday reception
It is common for guests staying at the chateau to contribute to the cost of accommodation
Visits by videoconference are possible and recommended
Accommodation 28 rooms in the chateau
Wedding cake served in the grounds with sound and light
Orly (1h20) and Roissy (1h50) airports
Villeneuve-la-Guyard train station (13min)
Numerous spaces for the wedding ceremony, including the Vallery church
Maximum 400 people seated for your event